Captain Price Survive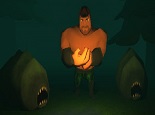 After a failed experiment, subterranean creatures - giant worms - were awakened. To save humanity and destroy the worms, Captain Price, war veteran and a real hero was sent on a mission ....
Features
- Several kinds of monsters
- Beautiful graphics
- A variety of weapons
- Replaying.

The game has an online high score table, designed to enhance the competitive spirit. Each result is recorded in the high score table, where you can compare your achievements with the achievements of other players.
Download
Screenshots:
Leave a comment
---
Advertising: